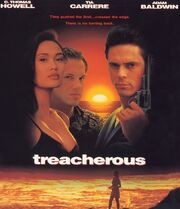 Treacherous is a 1993 limited release which stars C. Thomas Howell, Tia Carrere and Adam Baldwin and is directed by and co-written by Kevin Brodie with a story by William C. Martell.
A former race car driver (Howell) who has retired and is the owner of a Mexican resort hotel gets mixed up in a robbery involving $2 million by one of his former girl friends.
Background information and notes
Edit
The film was released in Italy on October 1993 at the MIFED festival. It premiered on home video in the United States on June 15, 1994.
Most of the film takes place inside this one hotel and has the anti-hero protagonist end the mayhem in deadly confrontations with the various villains.
Ad blocker interference detected!
Wikia is a free-to-use site that makes money from advertising. We have a modified experience for viewers using ad blockers

Wikia is not accessible if you've made further modifications. Remove the custom ad blocker rule(s) and the page will load as expected.