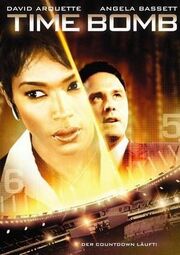 Time Bomb is a 2006 television movie starring Angela Bassett, David Arquette, Richard T. Jones and Carlo Rota, and originally aired on CBS Television. The telefilm got awful reviews and was never released on home media (DVD, Blu Ray) in the United States despite having a home video release in both UK and Germany regions.
During a football game in Washington, D.C., a terrorist makes a bomb threat to the DHS, stating that a bomb is in a stadium. Meanwhile, the family of DHS agent Mike Bookman (Arquette), are taken hostage. This brings out issues of suspect and trust amongst colleagues as the terrorist is suspected to be amongst them.
Background information and notes
Edit
Ad blocker interference detected!
Wikia is a free-to-use site that makes money from advertising. We have a modified experience for viewers using ad blockers

Wikia is not accessible if you've made further modifications. Remove the custom ad blocker rule(s) and the page will load as expected.