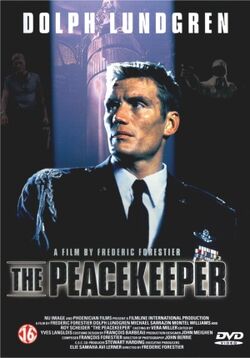 Directed by
Frederic Forestier
Produced by
Nicolas Clermont
Music by
Francois Forestier
Distributed by
October Films
Release Date
12 December 1997
Rated
5.0
Run time
96 min.
Budget
10.000.000$
The Peacekeeper
(also known as
Hellbent
) is a 1997 Canadian and American action film directed by
Frédéric Forestier
.
The Peacekeeper stars Dolph Lundgren as a Major in the US Air Force and the only man who can prevent the president being assassinated and with the ability to thwart an imposing nuclear holocaust.
The threat comes from a terrorist group, which has stolen the President's personal communications computer with the capability of launching the US arsenal to threaten global security. They are lead by a Lt. Colonel Douglas Murphy, who is hellbent on revenge against the President.
Dolph Lundgren - Major Frank Cross
Michael Sarrazin - Lt. Colonel Douglas Murphy
Roy Scheider - President Robert Baker
Christopher Heyerdahl - Hettinger
Allen Altman - McGarry
Martin Neufeld - Decker
Monika Schnarre - Jane
Tim Post - Nelson
Carl Alacchi - Holbrook
Chip Chuipka - Davis
Roc LaFortune - Abbott
Gouchy Boy - Robinson
Phil Chiu - Kong
Serge Houde - Secretary of Defence
Production
Edit
The film was shot on location in the city of Montreal, Quebec.
Ad blocker interference detected!
Wikia is a free-to-use site that makes money from advertising. We have a modified experience for viewers using ad blockers

Wikia is not accessible if you've made further modifications. Remove the custom ad blocker rule(s) and the page will load as expected.