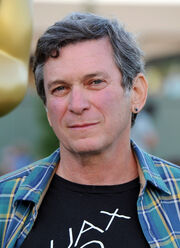 Robert Mark Kamen (born in The Bronx-NYC, New York, USA) is an American screenwriter who has been writing major motion pictures for over twenty-five years. He is best known as creator and co-creator of The Karate Kid and Transporter franchises and has written other films along with Luc Besson. Other credits include writing Gladiator (with Cuba Gooding Jr. and Robert Loggia), The Power of One (with Stephen Dorff, Morgan Freeman and Daniel Craig), Lethal Weapon 3 (with Mel Gibson, Danny Glover, Rene Russo and Nick Chinlund), A Walk in the Clouds (with Keanu Reeves) and Colombiana (with Cliff Curtis and Max Martini).
Die Hard Scenario Films
Edit
Ad blocker interference detected!
Wikia is a free-to-use site that makes money from advertising. We have a modified experience for viewers using ad blockers

Wikia is not accessible if you've made further modifications. Remove the custom ad blocker rule(s) and the page will load as expected.