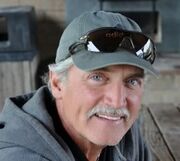 Richard Joseph Pepin (born February 8) in Canada, is an indie film director and producer.
One of the owners of PM Entertainment Group, Inc. along with Joseph Merhi and George Shamieh. He is well known for his futuristic sci-fi films and large action sequences. Pepin has directed a total of 14 films and produced films such as Maximum Force, T-Force, Zero Tolerance, Hologram Man, Skyscraper, Riot, Road Ends and Executive Target, and directed 8 episodes of "L.A. Heat", all for PM.
Ad blocker interference detected!
Wikia is a free-to-use site that makes money from advertising. We have a modified experience for viewers using ad blockers

Wikia is not accessible if you've made further modifications. Remove the custom ad blocker rule(s) and the page will load as expected.