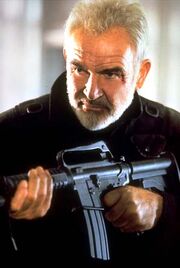 This is the list of characters who appeared in The Rock.
John Mason - a former SAS captain and MI6 agent who is illegally imprisoned and secretly the only surviving inmate to escape Alcatraz Island.
Commander Anderson - the commander of SEAL 1 send to lead his team to penetrate the Alcatraz with help from Mason.
Lieutenant Shepard - Commander Anderson's first lieutenant in SEAL 1.
General Al Kramer - An Army General and a friend of General Hummel.
General Peterson - An Air Force General.
SEAL Boyer - A SEAL 1 operative.
SEAL Reigert - A SEAL 1 operative.
SEAL Dando - A SEAL 1 operative.
USMC Marine Force Recon
Edit
Civilians
Edit
Ad blocker interference detected!
Wikia is a free-to-use site that makes money from advertising. We have a modified experience for viewers using ad blockers

Wikia is not accessible if you've made further modifications. Remove the custom ad blocker rule(s) and the page will load as expected.