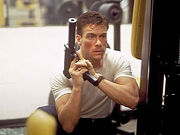 This is the list of characters who appeared in Sudden Death.
The McCord family
Edit
Darren McCord - A former Pittsburgh firefighter who is removed from active duty after he failed to save a young girl trapped in a house fire, but becomes the only man who tries to stop terrorists in the Civic Arena.
Emily McCord - Darren's daughter who is taken hostage by terrorists inside the arena.
Tyler McCord - Darren's son
Kathi - Darren's ex-wife
Terrorists
Edit
Notable hockey figures
Edit
Ad blocker interference detected!
Wikia is a free-to-use site that makes money from advertising. We have a modified experience for viewers using ad blockers

Wikia is not accessible if you've made further modifications. Remove the custom ad blocker rule(s) and the page will load as expected.