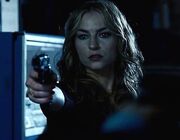 Iris Ferry is one of the main characters in the 2005 film, Assault on Precinct 13. She is portrayed by Drea de Matteo.
She fights alongside Jake and the others to survive the night and survives. After the attack she helps an injured Jake and likes what he has become.
Ad blocker interference detected!
Wikia is a free-to-use site that makes money from advertising. We have a modified experience for viewers using ad blockers

Wikia is not accessible if you've made further modifications. Remove the custom ad blocker rule(s) and the page will load as expected.