"I actually never had to pitch it. I wrote it on spec and it got sold. But that's not to take anything away from Die Hard. I think it's a near perfect action film, jaw-droppingly good... What I do find funny is the fact that after Speed opened, somebody was trying to pitch a Die Hard ripoff and called it 'Speed in an office building.' That's so Hollywood, isn't it?"
― Graham Yost on the rumor that Speed started out as a pitch for a Die Hard rip-off. [1]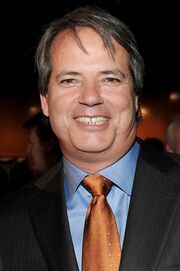 Graham Yost (born September 5, 1959 in Etobicoke, Toronto, Canada) is a Canadian film and television screenwriter. His best-known works are the Die Hard scenario films Speed, Broken Arrow and Hard Rain. He's also known for his work on acclaimed TV shows such as "Boomtown" and "Justified". Yost was also one of five writers to do an uncredited rewrite for 1998's Firestorm.
Die Hard Scenario Films
Edit
Ad blocker interference detected!
Wikia is a free-to-use site that makes money from advertising. We have a modified experience for viewers using ad blockers

Wikia is not accessible if you've made further modifications. Remove the custom ad blocker rule(s) and the page will load as expected.