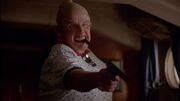 This is a list of deaths confirmed to have happened during the Under Siege movies covered by each movie.
Under Siege total = 63
Under Siege 2: Dark Territory total + prior movies = 109
Not included
Edit
The following characters could not be included in their respective tables. Reasons include, but are not limited to: they were last seen in extremely life-threatening situations and whether they survived was unspecified or they died off-camera.
Under Siege
Edit
Several men in the mass hall of USS Missouri we're killed off screen.
It is unknown how many crew members in two escort choppers we're killed by the surface-to-air missiles.
It is unknown how many of Strannix's crew members on the North Korean submarine we're onboard when they will killed by USS Missouri's 16 inch guns.
Under Siege 2: Dark Territory
Edit
It is unknown how many exactly died by China when Travis Dane fired the Grazer One's weapon satellite.
It is unknown how many we're killed when Dane fired the satellite at the airplane.
It is unknown exactly what happened to a few other of Penn's mercenaries involve. It is likely that they we're killed by the train collision or likely survived.
It is unknown what happened to the train conductor and the engineer on a Southern Pacific bulk freight train carrying gasoline tank cars. It is likely they we're killed when the train collided with the Grand Continental train over the bridge.