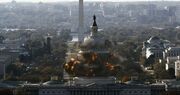 This is a list of deaths confirmed to have happened on White House Down.
White House Down total = 136
Not Included
Edit
The following characters could not be included in their respective tables. Reasons include, but are not limited to: they were last seen in extremely life-threatening situations and whether they survived was unspecified or they died off-camera.
White House Down
Edit
It is not known exactly how many people onboard Air Force One when it was shot down by Skip Tyler.
After Donnie saved Cale by beating Killick with a clock, his fate is unknown. However he was most likely killed.
Character Kills Total
Edit
Ad blocker interference detected!
Wikia is a free-to-use site that makes money from advertising. We have a modified experience for viewers using ad blockers

Wikia is not accessible if you've made further modifications. Remove the custom ad blocker rule(s) and the page will load as expected.