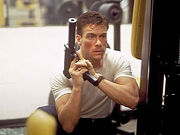 This is a list of deaths confirmed to have happened of Sudden Death.
Not Included
Edit
The following characters could not be included in their respective tables. Reasons include, but are not limited to: they were last seen in extremely life-threatening situations and whether they survived was unspecified or they died off-camera.
Sudden Death
Edit
The girl died in the house fire that Darren McCord failed to save before the main events of the movie.
it is unknown what happened to several other of Joshua Foss's men during the mass-panic evacuation of Civic Arena. It is implied that either some got arrested, killed or got away during that time.
Ad blocker interference detected!
Wikia is a free-to-use site that makes money from advertising. We have a modified experience for viewers using ad blockers

Wikia is not accessible if you've made further modifications. Remove the custom ad blocker rule(s) and the page will load as expected.