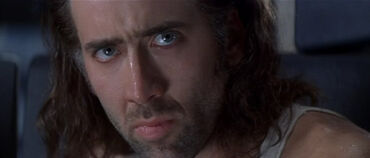 Cameron Poe
is the main protagonist of
Con Air
. He was portrayed by
Nicolas Cage
.
Poe was a decorated, well-respected military man who was sent to prison after beating a man to death who attempted to rape his pregnant wife. Years later he is released on good behavior but he is forced to take action when a gang of convicts take over the transport plane so he can see his little girl for the first time.
He has a Forrest Gump-type mentality but he is an honest yet streetwise man who is able to fool the convicts into thinking he is on their side.
Ad blocker interference detected!
Wikia is a free-to-use site that makes money from advertising. We have a modified experience for viewers using ad blockers

Wikia is not accessible if you've made further modifications. Remove the custom ad blocker rule(s) and the page will load as expected.