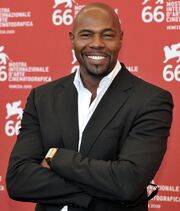 Antoine Fuqua (born January 19, 1966) is an American film director. He directed the film Olympus Has Fallen, as well as Training Day (with Denzel Washington, Raymond Cruz and Ethan Hawke), The Replacement Killers (with Chow Yun-Fat and Jürgen Prochnow), King Arthur, Shooter (with Danny Glover) and Brooklyn's Finest (again with Hawke and with Don Cheadle and Wesley Snipes).
Die Hard Scenario films
Edit
Ad blocker interference detected!
Wikia is a free-to-use site that makes money from advertising. We have a modified experience for viewers using ad blockers

Wikia is not accessible if you've made further modifications. Remove the custom ad blocker rule(s) and the page will load as expected.