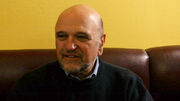 Andrew Davis (born November 21, 1946) is an American film director, producer and cinematographer who is known for directing a number of action thrillers including Code of Silence, Above the Law (with Steven Seagal and Michael Rooker), Under Siege, The Fugitive (with Harrison Ford, Tommy Lee Jones and Joe Pantoliano), Chain Reaction (with Keanu Reeves and Morgan Freeman), Collateral Damage and The Guardian.
Ad blocker interference detected!
Wikia is a free-to-use site that makes money from advertising. We have a modified experience for viewers using ad blockers

Wikia is not accessible if you've made further modifications. Remove the custom ad blocker rule(s) and the page will load as expected.