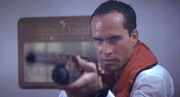 Alex Shaw is the main protagonist of the 1997 film, Speed 2: Cruise Control. He is portrayed by Jason Patric in the film.
Biography
Edit
Alex Shaw is Annie Porter's new boy friend after she broke up with Jack Traven. He was said to be a beach officer, but in reality he's actually a S.W.A.T. Officer, he and Annie started dating ever since. He was on a motorcycle, chasing thieves who stolen some goods, but some of them felt out of the back of the van. Alex managed to catch them and rescue the goods, then Annie shows while taking her driver's test and pull over by cops for coming over a red light.
Ad blocker interference detected!
Wikia is a free-to-use site that makes money from advertising. We have a modified experience for viewers using ad blockers

Wikia is not accessible if you've made further modifications. Remove the custom ad blocker rule(s) and the page will load as expected.