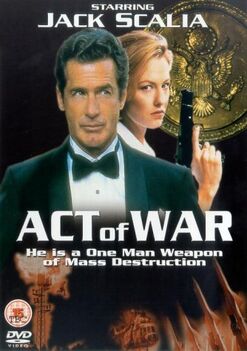 Act of War is a 1998 action film directed by Robert Lee.
The film stars Jack Scalia, who plays Jack Gracy, a former security guard at the American Embassy in Russia. His estranged girlfriend, Katherina Mirova, works at the Embassy of the former Soviet Republic of Bazrhikistan, so he shows up uninvited to a party there. While they are talking upstairs, terrorists led by Sergei Constantine storm the party and take everyone hostage. Jack is now the only person with a chance of saving the day.
Ad blocker interference detected!
Wikia is a free-to-use site that makes money from advertising. We have a modified experience for viewers using ad blockers

Wikia is not accessible if you've made further modifications. Remove the custom ad blocker rule(s) and the page will load as expected.